Stylish Mashable Social Media and Subscription Box For Blogger Blog
Want to add Mashable Social Media into box Blogger blog easily? In this tutorial I'm going to say how to add mashable social share box into blogger blog. You can make your blogger blog more beautiful and also give your reader the opportunity to share your updates. 
Social media is the best way ever to share you posts. Social share button and Subscription box that allow your visitors to not only subscribe your blog post but also share those on social media. So I think the mashable social media widget is a part and parcel for every blog. As a blogger you may know about mashable social media box. But unfortunately they made  it only for WordPress blog. But today I am going to say give you a good news that we rebuild it mashable social media box for blogger blog. So, let's roll.
Take a look on the picture below. It shows Stylish Mashable Social Share and Subscription box's look.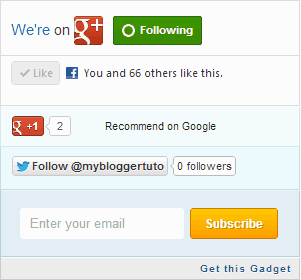 How to Add Mashable Social Media Box to Blogger /Blogspot?
1. At first go here – HTML code of Mashable Social Media and copy the full code.
2. Go to Blogger Dashboard > Layout. Then select Add a 'Gadget'
3. Select "HTML/JavaScript" and paste the copying code.
4. Now save the wizard and view your blog.
Customize :-
1. Replace "mybloggertuto" with your own username.
2. Replace "https://plus.google.com/109030618102253901574" with your Google + profile link.
That's it. Now visit your blog. The stylish mashable social media wizard will be displaying on your blogger blog. That's not only make your blog more user friendly but also make your blog more beautiful for your readers. Now your readers can easily subscribe and share your updates on social media direct and easily. Stop using any third party application and never forget to add this feature on your blogger/ Blogspot blog.
Thanks for visiting my new blog. Please drop your comment if you feel happy and please share this post with your friends. Thanks for coming on my blog.
This article was written by Md. Iftieaq Rahman