How to Remove Blogger Navbar From Blogspot Blog
Remove Blogger Navbar from your Blogspot/blogger blog easily. You can remove the blogger Navigation bar easily without editing HTML or anything. To remove the navigation bar from your blogger blog, Just follow my tutorial. I am going to say the best and easiest way to remove the navbar from your Blogspot blog.
Blogger navbar contains some kind of useful options as like search option. People can easily search for any blog post using blogger navbar which is displaying top in your blog. Especially people can also share your blog on Google plus and anyone randomly jump to the next blog.
Maximum professional bloggers want to hide the blogger navbar from their blogger blogs because the navbar doesn't look like professional. Many people are searching for how to remove blogger navbar from Blogspot/blogger blog. You may also one of them. Don't worry, today I will show the easiest way to remove the navbar from blogger blog.
Remove The Blogger Navbar Easily:-
Actually logger has added lots of new functions recently and they make our job easy by adding an easy navbar manager. Before you need to edit the HTML code of your blogger template but now anyone can easily delete the navbar from his blogger/Blogspot blog. To remove the navbar, follow my new blogger tutorial.
Step 1. Log in your blogger account. Go to Blogger Dashboard > Layout.
Step 2. Now click "Edit" under Navbar section. Check the screenshot below.

Step 3. A Blogger Navbar Configuration menu will open shortrly . Now select "Off" from the Blogger Navbar configuration menu. Follow the screenshot.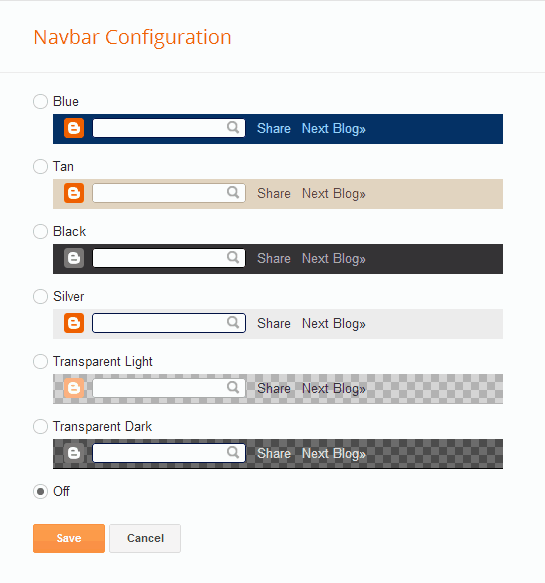 That's it . Now click save arrangement and view your blogger blog again. The blogger navigation menu will not appear on your blogger blog.
Don't forget to drop your comment. If you have any problem to remove the Blogger navbar from your blog, Just leave a response into the comment section.  Thanks for visiting.
This article was written by Md. Iftieaq Rahman