Remove powered by blogger attribution from your blog easily in three steps. This is a step by step tutorial to remove the attribution at the bottom of your blog says powered by Blogger. If you want to remove this attribution powered by blogger from your Blogspot blog, just follow this tutorial.
This is my 3rd blogger tutorial. Today I am going to explain how to remove powered by blogger attribution from your Blogspot blog. Few days ago I saw a JavaScript code which can hide this code easily. But I do not recommend it anymore. Because when Google bot visit your site, He think you have tried to hide something from your blog. And it will take a bad effect on your blog search ranking. Today I am going to say a very easy way to remove this attribution in one minute. So let's do it.
Remove Powered by Blogger attribution From Blogger -
Step 1:- Log in to your Blogger Dashboard. Go to the  Template >> Edit HTML. Then mark the "Expand Widget Template" option following the screenshot.
Step 2:- Now search (Ctrl + F) for "Attribution1". You will see there something like this. Now mark the following highlighted codes (see the screenshot) and remove it. After deleting, click Save Template.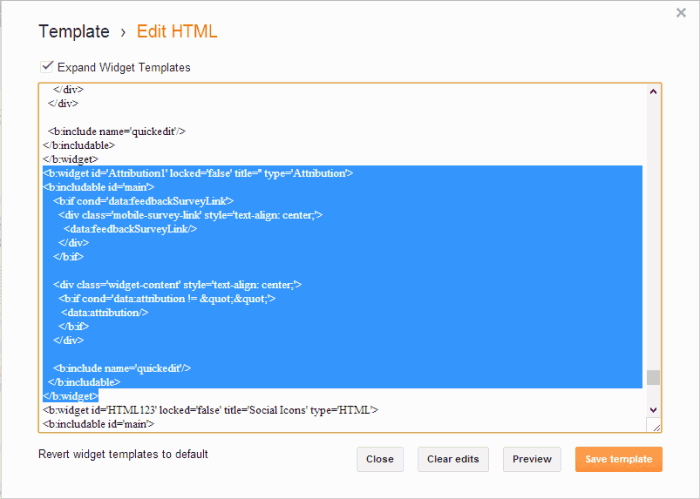 Step 3: – You will see confirmation warning. Simply click on "Delete Widget"
Your job is done. Now click view blog to check it. The text "Powered by Blogger" no longer appear at the footer. Thanks for visiting. This tricks not only make your blog beautiful but also make your blog faster by removing this attribution.
Do not forget to remove this attribution from your Blogspot blog. Make your blogger blog more beautiful and friendly. If you like the post and find it helpful for other then please share this post to help another peoples. Thanks for coming.